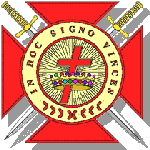 In Hoc Signo Vinces
ARLINGTON COMMANDERY No. 107
KNIGHTS TEMPLAR
1415 West Abram, Arlington, TX 76013-1706
Mail: P.O Box 156, Arlington, TX 76004
meets 3rd Mondays at 6:45 PM
---


Arlington Commandery #107
Officers for 2018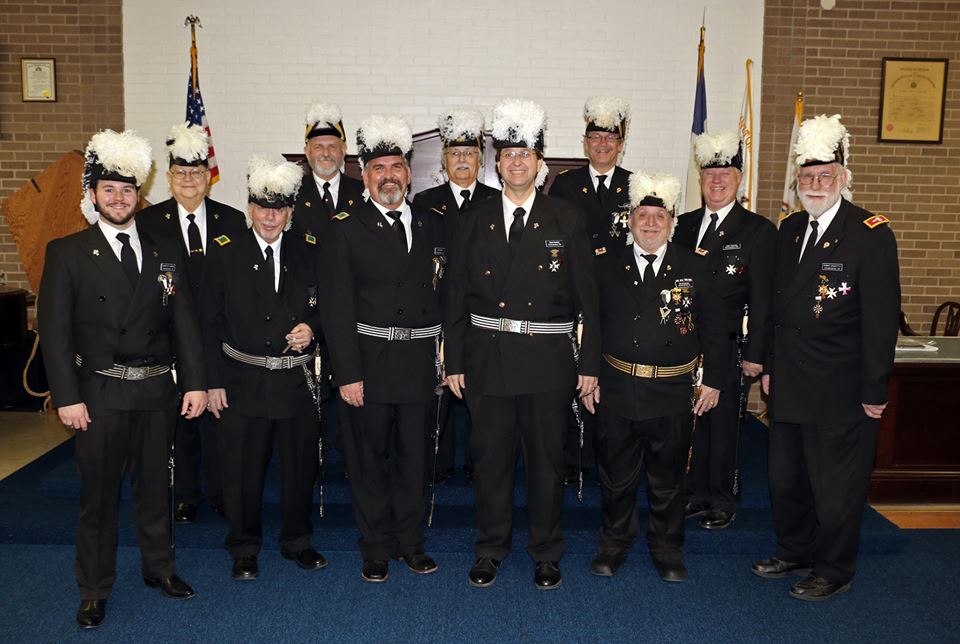 2018 Officers
Pictured from left to Right
Corey Harris, James Sharp, Don Laughlin( Eminent Commander), Jerry Chamberlain, Gary Blair (JR. Past Commander),
Jim Rogerson, Zachary Haston, James Kirkpatrick, Joseph Spencer, John Thomas, Robert Cagley


| | |
| --- | --- |
| Eminent Commander | Don Laughlin |
| Generalissimo | Zachary Haston |
| Captain General | Corey Harris |
| Senior Warden | James Cotton |
| Junior Warden | John Thomas |
| Prelate | James Dale Kirkpatrick, P.C. |
| Treasurer | James Sharp |
| Recorder | Joseph Spencer, P.C. |
| Standard Bearer | Shane Williams |
| Sword Bearer | Gary Blair |
| Warder | Robert Cagley, P.C. |
| Guard | Daniel Serna |
| Guard | Floyd Hall, P.C. |
| Guard | Damon Scheer |
| Guard | Paul Pinkerton, P.C. |
| Sentinel | Dwight Von Heeder |
| Instructor | Joseph Spencer, P.C. |
| Recorder Emeritus | Robert Collier, P.C. |
CLICK HERE FOR THE ARLINGTON YORK RITE NEWSLETTER!!!!


CLICK HERE FOR THE EXCALIBUR LIST !!!!

CLICK HERE FOR OUR BYLAWS !!!!

---



ANNOUNCEMENTS


CLICK HERE FOR THE TARRANT YORK RITE NEWSLETTER !!!!

---
Benevolent Programs of Chivalric Masonry
The KNIGHTS TEMPLAR EYE FOUNDATION was established at the Triennial Conclave in 1955. The objective of the foundation is to provide hospitalization and surgery for the retention or restoration of sight for those individuals who could not normally afford the expense themselves or receive assistance from Medicare, State Aid, Social Services. There is no restriction as to race, creed or color. Since its inception, over 23,500 individuals have received the benefit of this great Christian philanthropy at a cost of over $9,000,000. Additionally, thousands of others are benefitting from research grants of over $1,000,000 which havebeen made by the foundation.Funds for supporting this work are obtained in part from the annual $1.00 assessmentof each Knight Templar, contributions from other Masonic and allied Masonic organizations and individuals, fund raising activities, memorials, wills, bequests and other similar sources. Due to the success of this program additional funds are required annually to support the approved cases. Therefore, special voluntary campaigns have been conducted through the Templar Commanderies in recentyears to secure the required revenue.Additional programs have been instituted whereby a Templar may become a Life Sponsor ($30.00), an Associate Patron ($50.00), or a Patron ($100.00) which relieves hemself and his Commandery of the $1.00 annual assessment. Contributions are solicited for Patrons and Associate Patrons from any individual or organization to support this great work. Only a Templar may become a Life Sponsor. Many Commanderies have 100 percent of their members as Life Sponsors.
The KNIGHTS TEMPLAR EDUCATIONAL FOUNDATION
Launched in 1922 with these words: "We feel that the Grand Encampment can build no greater monument nor inaugurate a more worth-while movement than to put into effect a plan which will provide educational advantages for the youth of our beloved Country, thereby enabling them to become more useful members of society and better citizens of this Republic."With this action, the Knights Templar became the first fraternal order to establish a program to assist needy young men and women to complete a higher education. Loans are normally made for the last two years of a four year program, and are repaid at low interest after graduation. Since the inception of this foundation, over $29,000,000 has been loaned to worthy individuals. As this is a loan program and does not make grants the funds revolve and the program is self-sustaining.